Volumetric Auger Fillers
Model E-11
Entry Level model E-11 Powder Filler. Full-size powder filling machine, capable of filling small and large sizes well above 2 kg. Perfect for all types of Spices, Baking Mixes and Flours. Reliable performance to fit your budget.

Video
Model MF-11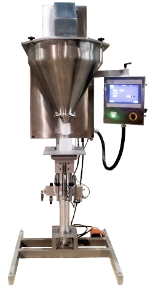 High Performance Servo operated Powder Filler. Durable enough to fill the most harsh products. Capable of filling the most challenging powders and granules. Independent control of Auger and Agitation system.


Video
Model MF-11HC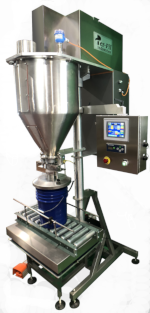 High Capacity. High Precision. 20 lbs to 100+ lbs. Designed to fill your wide range of fill sizes, into a wide range of containers - Bags, Bag-in-a-box, Drums. Fill-by-Weight. Able to withstand the most harsh environments. FAST, CLEAN, PRECISE.
Fill-by-Weight Auger Fillers
Model E-11W
The Entry Level model E-11 Powder Filler is a full-size auger filling machine, capable of filling small and large sizes well above 2 kg. Perfect for all types of Spices, Baking Mixes and Flours. Weigh Filler with Integrated scale allows for adjustments in Bulk Density. Accuracy better than +/- 1.0%.
Model MF-11W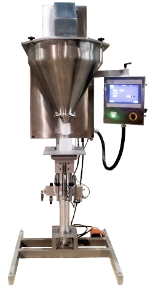 High Performance Servo operated Auger Filler. Durable enough to fill the most harsh products. Capable of filling the most challenging powders and granules. Weigh Filler with High Resolution scale controls the Servo operated Auger and Agitation system. Accuracy +/- 0.5% or better.
Model MF-11HCW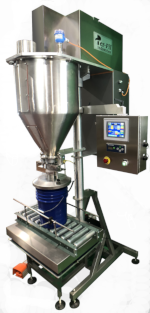 High Capacity. High Precision. 20 lbs to 100+ lbs. Designed to fill your wide range of fill sizes, into a wide range of containers - Bags, Bag-in-a-box, Drums. Fill-by-Weight. Able to withstand the most harsh environments. FAST, CLEAN, PRECISE. Weigh Filler with Integrated scale allows for Bulk Filling at high precision. Accuracy better than +/- 1.0%.

Video
---