Food and Spice Applications
---
PER-FIL Industries provides Low and High Volume powder fillers to Start-ups, established Private Food Producers, Co-Manufacturers and Multi-National Corporations, who require Reliable, High Quality Food Packaging Equipment to meet their unique production needs.
Entry Level Semi-Automatic Auger Fillers
Compact Micro Doser
Model Micro-Filler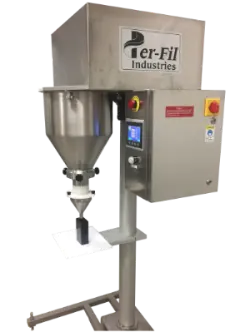 Invented in 1994, the most popular compact auger filler among companies who require flexibility and reliable performance. The Micro-Filler Series Auger Fillers can dose a wide range of products DUST FREE. Fill sizes range from a few grams to 500 grams.
Full Size Economy
Model E-11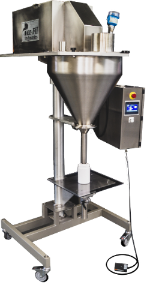 The Entry Level E-11 Auger Filler is a full-size powder filler machine, capable of filling small and large sizes well above 2 kg. Perfect for all types of Spices, Baking Mixes and Flours.

Video
High Performance Automatic Auger Fillers
Single Head Servo
Model MF-11C-FG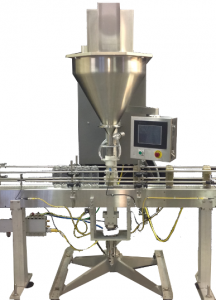 The High Performance model
MF-11C-FG Food Grade Servo operated Auger Filler is designed to give the operator the highest level of flexibility and performance when filling the most challenging powders, granules, pastes. The MF-11C-FG can also fill processed foods such as Cooked Rice, Guacamole and even Diced Tomatoes using our proprietary ported tooling.
Dual Head Servo
Model MF-2C-FG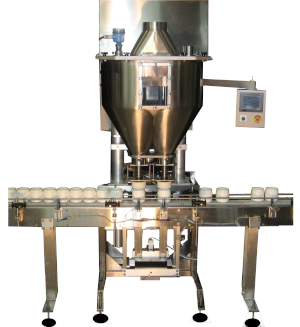 Ideal for Co-Manufacturers who need 24/7 production and flexibility to run 100+ SKU's. Dual-spindle in one common hopper. Large 5 cu. ft. filler hopper capacity with a reduced overall footprint. Bulk feed one filler, not two. Available with a Built-in Checkweigher for continuous feedback and correction.


Video
High Speed Automatic Auger Fillers
Multi-Spindle


Model MF-XC
Ideal for High-Speed applications to fill Non-Free-flowing and Free-Flowing spices. The MF-XC directly dispenses your unique product into rigid containers. No need for product to drop through a series of funnels, becoming aerated, changing bulk density, effecting performance and creating excessive dust. With the integrated pneumatic lift and dust terminations, your high-speed production line will run clean, fast, and accurate.


Video: Multi-Spindle Powder Filler
Rotary
Continuous
Motion
Model 28-RCM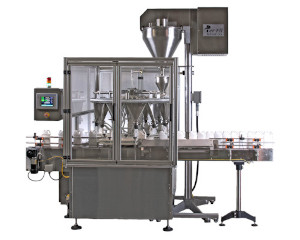 Ideal for High-Speed applications to fill Free-flowing granular spices. When required speeds are 100 cpm or higher, the RCM High-Speed Rotary Continuous Motion Auger Filler is a great solution.
---