OEM Applications
---
PER-FIL Industries offers high performance fill heads designed for the OEM Industry. PER-FIL OEM fill heads integrate with your Form Fill Seal, Stick Pack, Pre-Made Pouch machine. Dosing 25 mg into a Sachet, 2 g into a Stick Pack, 500 g into a pouch, 2 lbs into a Pre-made Stand-up Pouch. High quality - Made in the USA - fill heads for any OEM application.
OEM Auger Fillers designed for Form Fill Seal and Stick Pack Machines
Micro Dosing into Pouches
Model nano-OEM
Automatic precision dosing. Designed for Lab Trials and integrated solutions.
Micro Dosing into Stick Packs
Model Micro-OEM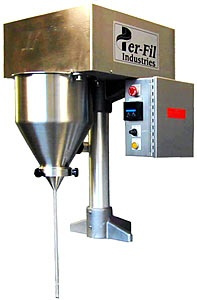 Form Fill Seal and Stick Pack integration.
High Performance Pouch Filling
Model MF-11-OEM
Low/Mid Volume Precision Dosing.
Single head PER-FIL Auger Filler integrated with a single lane stick pack machine. Meet your Commercial Production needs while saving space. Filling into sachets, stick packs, pre-made stand-up gusseted pouches.
Multi-Lane Pouch Filling
Model MF-X-OEM
High Volume Precision Dosing. Multiple spindles in one common filler hopper to meet your Commercial Production needs while saving space. Filling into a variety of Sachets and Stick Packs.
Automation Cells & Special Projects
Our engineers will customize a solution for integration with your packline or process. Per-fect solution for Contract Manufacturers, Integrators, Private Pharmaceutical Manufacturers who require a High Quality Reliable U.S. manufactured filling system.
Entry Level Pouch Filling
Micro-Filler integrated with a Phonenix Pouch Machine.